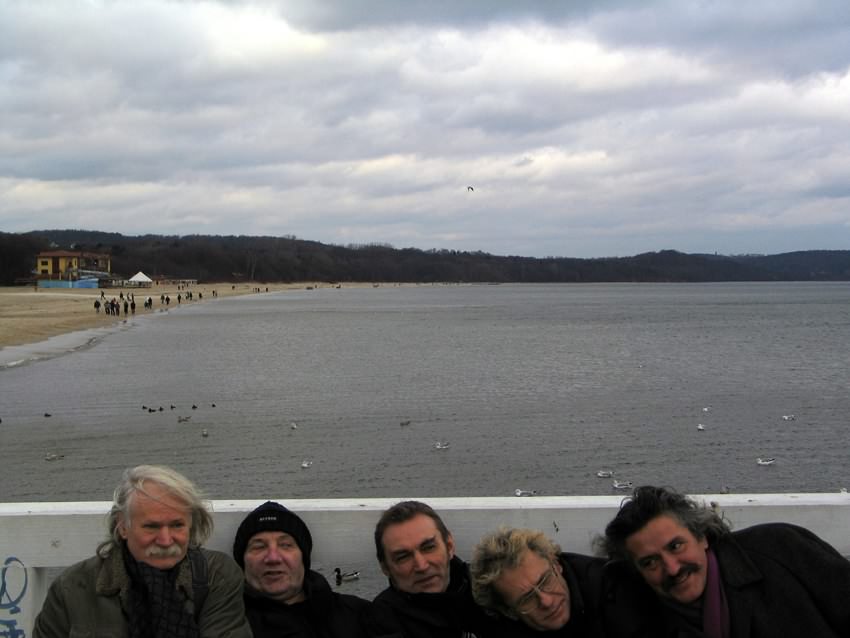 Andrzej Wielogórski, Andrzej Kwietniewski, Andrzej Swietlik, Marek Janiak, Adam Rzepecki


For at least two years Lodz Kaliska is working hard to change its image. It is to be a far reaching change, a complete break with the anarchic or nihilistic traditions that date back to the times when the reality did not inspire empathy since the survival depended on the ability to create distance. Lodz Kaliska's programme, formerly akin to neodadaism and currently developed by New Pop manifestos, perfectly fits into the current changes in the creative intelligentsia who finally seem to discover the elementary pragmatism. In other words, the group Lodz Kaliska have recently engaged in New Pop, which they have termed "beautiful art" in contrast to their previous "insane" projects. New Pop infallibly brings to mind pop art. Among the affinities they share is the employment of advertising and marketing mechanisms. Lodz Kaliska's spectacular actions, modelled on popular shows and revues, could be called "a very serious entertainment". By organising happenings with beautiful girls and actions such as the Polish She – Eagle, by writing New Pop manifestos encouraging people to buy new exclusive products, by modelling photographs on advertising, members of the group obscure the border between art and life. Although they had already followed such an approach before, this time they examine the border between art and advertising, between what can be labelled as "high art" on the one hand and the contemporary image culture on the other.
Despite their blend of art and pop culture, the members of Lodz Kaliska's consider themselves artists, not advertising specialists or graphic designers. Market mechanism and rules, or casting sessions with their winners or losers who do not conform to the expected beauty patterns, seem obvious almost to everyone. Set in a different context, they can be noticed and investigated, which is exactly what Lodz Kaliska is engage in. They do not criticise the reality they exploit, but simply display it. They make art out of advertising and force high art to perform promoting functions, which proves entertaining both for the artist and their audience. Those outwardly facile and funny activities defy simple classifications and descriptions. Fascinatingly equivocal as usual, Lodz Kaliska are still proof against both "art" and "show business" labels.